Gutter Services in Weatherford, TX
The gutters of a home are more important than many property owners realize. Without a working gutter system, homes and businesses can begin to suffer damage rapidly. We are the gutter experts that home and business owners in Weatherford, TX and surrounding Parker County can rely on for all their Roofing Services.

Why Should Homeowners Choose Seamless Gutters?
Homeowners can choose between sectional and seamless gutters for their homes. Many homeowners are realizing seamless gutters are the superior choice. The following are some of the reasons to consider seamless gutter options for your home.
Seamless gutter systems are custom-made to fit your home. These gutter systems come in a long, single strip. The custom cuts used for these gutter systems make them look more attractive and also allow them to offer a higher level of protection.
Unlike sectional gutter systems, there are no seams for leaves and other debris to gather. Cleaning sectional gutter systems can become a hassle because of all the seams trapping leaves and other debris.
With fewer joints, seamless gutter systems are more durable. Seams weaken gutter systems and are the primary points where damages begin to occur. Fewer seams means a gutter system is going to last much longer and be more effective.
Another advantage of these gutter systems is a lack of leaks. Leaks most often occur at the seams. Because these gutter systems have so few seams, you are less likely to experience annoying leaks that lead to foundation or landscape damage.
Seamless gutters require much less maintenance than sectional gutters. Many homeowners find their seamless gutter systems are simple to maintain and do not require a lot of cleaning.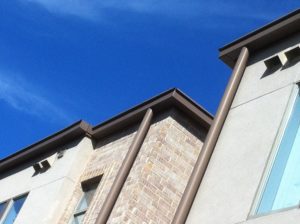 The primary purpose of rain gutters is to prevent mold, mildew, and other water damage. Gutters protect your home directing rainwater away from your brick, siding and trim.
Seamless gutters catch water as it runs off your roof and channels to a downspout. The downspout then safely deposits the water a safe distance from your foundation, helping to reduce or prevent pooling or ponding water next to your foundation.
Have you been considering the available gutter options? If so, it is time to contact us right away. Our team is standing by to answer questions and provide information. We will be happy to come to your home and carry out an inspection to determine which gutter system will be best.
Signs You Need Gutter Repair
Gutters can last 20 to 50 years, depending on the type and level of maintenance they receive. If you notice any of the following signs, contact us immediately. Waiting to seek gutter repairs will only cause the problems to worsen and the repairs to become more expensive.
The gutters have begun to sag. Sagging gutters will not offer the right level of protection and can lead to water damage. If your gutters look uneven, call us right away.
Mold and mildew growth in the attic often means the gutter system is not working effectively.
If the paint is peeling on the exterior of your home, or the siding is becoming faded and damaged, gutter problems could be to blame.
Should homeowners notice pooling water around the home's foundation, gutter problems are likely present.
Finding gutter hardware on the ground means you need to call our gutter repair technicians today.
If you see water overflowing out of your gutters during a rain, there are significant problems that need attention.
Plants growing out of your gutters is a serious sign that you need gutter repairs. Gutter leveling, gutter cleaning, and leaf filters could all be part of the solution to fix your gutters.
We offer extensive gutter repair services and gutter cleaning services for home and business owners in and around Weatherford, Texas. No job is too big or too small. Call us right away to schedule an appointment to get started.
Gutter System Installation
When home and business owners need a gutter system installed, we are the experts they call. We will come out to inspect a property and determine which type of gutter system will be most appropriate. A new gutter system will usher water away from the foundation of your home so it does not cause damage.
When there is no gutter system in place, we start to see a range of damages to homes. Not only will the exterior materials, including brick and siding, become damaged, but you will also notice foundation damage. Foundation damage can become pronounced and lead to serious expenses.
Call Us Today
Dealing with gutter problems can become a nightmare for homeowners. Gutter systems are complex and are not to be repaired or installed by DIYers. Attempting to install a gutter system alone can lead to problems. If a gutter system is installed improperly, it will not offer protection and can become an eyesore.
Call us today with all your gutter needs. We are here to answer your questions. No job is too big or too small. Our team is here when you need us most to protect your home from water damage. Whether you need repairs or a new gutter system, we are the experts to call.
We are the gutter experts homeowners in Weatherford, TX and Parker County rely on for all their repair and installation needs. Our high level of customer service means we treat your home like our own.