Commercial Roof Services in Weatherford, TX
When commercial roofing begins to experience signs of damage or is growing older, it is time to seek our professional roofing services. Commercial roofs are complex systems that are not for DIYers. We will be here when you need us most. Contact us today. Whether you need a new roof coating, repairs, or a full installation, we are the professionals for the job. We also offer emergency repair services to protect businesses in danger of being damaged.
We Handle All Types of Commercial Roofs.
No job is too big or too small for our roofing experts to handle. Our commercial roof services take care of all kinds of roof systems. We are extremely knowledgeable in both steep slope commercial roofing and low slope (often referred to as flat roofing) commercial roofing. The following are some of the most popular commercial roof systems in Weatherford, Texas and surrounding Parker County. Call us for all your roofing needs.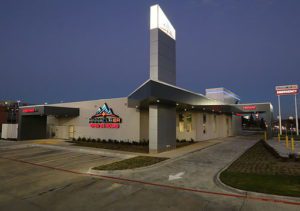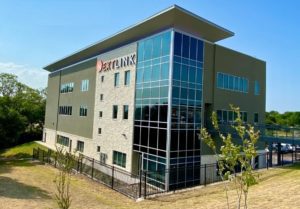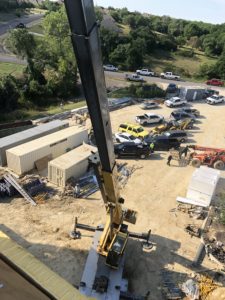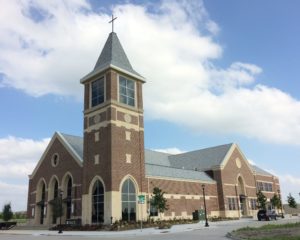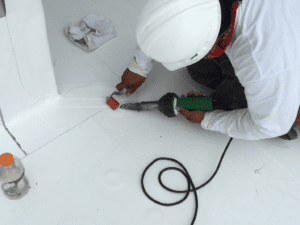 STEEP SLOPE
Asphalt Shingles
Asphalt shingles are a popular material for businesses in the state of Texas. These roofs are affordable, but they do not last as long as some types of commercial roofs.
Metal Standing Seam Roofing
Standing seam metal roofing is a concealed fastener roofing system which features vertical or trapezoidal legs with a flat space in between. This metal roofing system is one of the most weather-tight and durable roof systems available. Concealed fasteners ensure that the fasteners aren't exposed to the elements which could cause them to fail over time. These panels are attached to the roof deck with clips and are free of any holes from nails or other fasteners that could allow moisture to seep in. Standing seam roofing is available in snap-lock and mechanically field-seamed panels. Snap-lock panels are secured to the roof deck with clips which allow for thermal movement of roofing panels, and the panels snap together at the seams. Mechanically seamed panels are similar to snap-lock panels, however the seams securing the panels to each other must be crimped together with a machine or by hand.
LOW SLOPE
Our experts also handle single-ply roofing to meet the needs of our commercial property owner customers. There are multiple types of single-ply membranes.
TPO
TPO, short for thermoplastic polyolefin, is a single-ply roofing membrane that offers excellent performance at a cost-effective price. Heat-welded seams provide superior strength. The long-term heat, UV, and natural fungal resistance of TPO, plus flexibility without need for plasticizers also make TPO a reliable low-slope roofing system. TPO single-ply roofing membranes are among the fastest growing commercial roofing products and have gained praise across the industry for their many advantages, including in performance and installation. As demand increases for energy efficient and heat-reflective roofing systems, you can rely on TPO single-ply roofing membranes to continue to provide resistance to ozone, ultraviolet and chemical exposure.
PVC
PVC, or polyvinyl chloride is another single-ply roofing membrane that is among the most popular commercial roofing products available today. PVC is remarkably durable and highly resistant to some of the toughest flat-roof aggressors like chemicals, fire, and high winds. And the benefits of PVC roofing go beyond durability to include solar reflectivity, which can help regulate building temperature and energy use. Thanks to its performance and installation advantages, PVC roofing has been put to the test and trusted by building owners around the world for more than 35 years.
EPDM
EPDM, short for ethylene propylene diene monomer, is a rubber single-ply membrane. With durability, flexibility and UV resistance built in, EPDM is a versatile solution you can count on. From offices and warehouses to schools and hospitals, EPDM delivers outstanding, long-lasting performance no matter the climate. EPDM offers a variety of installation options including fully adhered, mechanically attached, or ballasted, that deliver superior long-term weatherability and exhibit exceptional wind-uplift resistance.
We also offer several types of asphalt roofing systems in the Weatherford area.
SBS Roofing Systems
SBS (styrene-butadiene-styrene) Modified Bitumen Roofing Systems incorporate a synthetic rubber-based technology that yields extraordinary flexibility, even at very low temperatures. SBS membranes can be installed with hot asphalt, cold adhesive, or can be heat-welded.
APP Roofing Systems
APP (A-Tactical Polypropylene) Modified Bitumen Roofing Systems feature a thermoplastic bitumen blend that has superior resistance to UV and higher temperatures. APP membranes can be applied with cold adhesive or heat welded. APP membranes deliver excellent rooftop performance for both re-roof and new applications.
Built Up Roof (BUR) Systems
In a BUR roof system, asphalt-impregnated, fiberglass reinforced roofing felts are installed in multiple layers with a flood coat of hot asphalt and aggregate, or are used in combination with modified bitumen in hybrid systems.
Roof Coatings
A roof coating is a monolithic, fully adhered, fluid applied roofing membrane and is designed to protect and extend the life of a roof assembly for new construction and more commonly, an existing roof covering, such as metal, single-ply membrane, BUR, modified bitumen, and spray polyurethane foam.
Roof coatings are thicker than paint. Formulated to protect roofs from the damaging effects of weather and the environment, such as UV light, and excessive water and wind, roof coatings are formulated to provide protection for many years and are also extremely elastic. High quality resins and the volume of resins introduced during manufacturing allow coatings to maintain their elastic properties throughout their life cycle. Common types of roof coatings are acrylic coatings, asphalt coatings, polyurethane coatings, and silicone coatings.
No matter the type of roofing system, we have solutions. We provide prompt service and are available when roofing emergencies arise. If you have a different type of roof than those mentioned above, contact us right away. We will be happy to discuss your roofing needs, no matter the scope.
Commercial Roofing Repair
Dealing with roof repair issues can become a nightmare. As a roof grows older, the materials slowly begin to break down, which lead to repair concerns. If you notice any of the following signs of commercial roof damage, contact us immediately. Scheduling an appointment will protect your roof against further damage.
Pooling or ponding water on the surface of the roof
Wind damage
Missing shingles
Roof debris
Skylight leaks
Flashing damage
Roof leaks during rain
Cracks and tears in the materials
Water spots on the ceilings
Tears in the roof membrane
Loosened roof fasteners
Increased mold growth inside the building
Loose or detached membrane
Cracked coatings or cracked asphalt
Should commercial property owners notice any of the above, schedule a roofing repair appointment right away. Americana Roofing provides extensive repair services for all types of commercial roofs. Call us today to schedule your appointment to get started.
Roof Replacement and Installation
Whether you are building a new commercial property or need to replace an old roof, we will be here. When you need a commercial roof replacement, call us right away. We handle the removal and disposal of the old roof and provide expert installation services. With a new roof, commercial properties will stay protected against water damage.
There are many reasons why it may be time to replace an old commercial roof, including the following.
The drainage system is inadequate or has suffered severe damage
The roof is reaching the end of its lifespan
Severe storms caused extensive roof damage
There is inadequate roof ventilation
Wear and tear have occurred to the roof membrane
On average, commercial roofs last between 15 to 25 years. If your commercial roof is around 20 years old, it is time to start considering a replacement. We will be happy to inspect the roof and provide an estimate for repairs or replacement services. Our expert team will guide you in making a decision on a new roof.
Waiting is not an option. Although we know property owners want to save money, putting off a roof repair is not a good idea. Waiting to replace an old roof is only going to cause additional repair issues that become more pronounced. Eventually, the building's interior will start to suffer damage.
Commercial Roof Warranties
We offer warranties on all commercial roof work we perform. Roofing warranties vary with each commercial roof system or commercial roof repair, and can be as long as 20 years or more with a Full System Warranty (NDL – No Dollar Limit) that covers the material and workmanship. NDL warranties are backed by the roofing manufacturer and will provide a no dollar limit for labor and material to fix roof leaks IF they are warranty related. And NDL warranties can often be transferred to a new owner when a commercial property owner sells the property.
Schedule Roofing Services Today
Dealing with commercial roof problems can become more than a big headache. If you have noticed problems with your roof, like those above, call us right away. We are here to answer any questions and schedule services right away.
Roof damage is progressive. Once the damage begins, it continues until repairs are carried out or a replacement is put in place. Allow our expert roofing team to take care of all your roofing needs.
With our prompt roofing services, your commercial property will be protected against further damage that can become expensive. Our team also provides emergency roofing services when problems develop after hours or on weekends.
We are a simple phone call away. Our team is standing by to answer your questions. Call us right away to get started.
When we provide residential and commercial roofing services for property owners and managers in Parker County and Weatherford, TX, itt is our goal to provide 100% customer satisfaction.