Roofing Services in Weatherford, TX
Homeowners in Weatherford know how important their roofs are to their homes. The area's hot, humid summers can make people miserable and drive up air conditioning costs, but having a sturdy, energy-efficient roof in place helps to mitigate those problems. At the same time, roofs protect local homes against wind, rain, and severe weather, keeping families and their belongings safe and dry.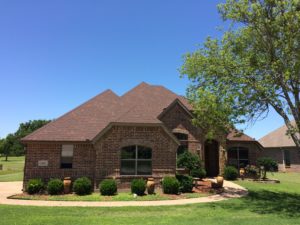 Keeping a Roof in the Best Possible Shape
For a roof to function properly and serve its purposes, it must be kept in the best possible condition. At Americana Roofing, we're here to help homeowners do just that. We're located right here in Weatherford and have been serving Parker County for over 10 years. Our highly trained and experienced team offers all the Roofing Services local homeowners need to protect their investments. We're dedicated to providing the highest quality materials, exceptional work, and affordable services to help keep Weatherford safe and beautiful. Feel free to contact us for a consultation or service appointment.
Expert Roofing Service for Weatherford Residents
Homeowners in Weatherford, TX, have diverse requirements when it comes to roofing. No two homes are identical, and no two families' needs are the same. That's why we cater to a variety of needs. From installing roofs on new homes to helping clients choose the best roofing materials, we do it all. Take a look at some of the services we make available to local residents.
Roof Inspections
Roof inspections are essential for all homes and should be performed at least once per year by certified professionals. Inspections allow professionals like us to spot damage early, so it doesn't have a chance to spread out of control. That keeps any additional home damage at a minimum. Having the roof inspected annually can help prevent more costly repairs to the surface roofing materials and sheathing as well as the interior of the home.
At the same time, insurance providers insist that homeowners stay on top of maintenance and repair needs. If they can prove that damage existed before a claim was filed, they may not provide a payout for repairs. If they suspect a roof has been neglected, they may balk at a payout as well. That means homeowners who don't have their roofs inspected may be left to pay for repairs out of pocket.
Roof Maintenance
Roof maintenance aids in preventing damage before it takes hold. That, along with routine inspections, can help keep repair costs low. It can also help to preserve a home's energy efficiency and interior comfort levels. Preventing damage is almost always less expensive than handling repairs after the fact. Furthermore, ongoing maintenance keeps a roof looking as good as new and prevents a home from losing value.
Roof Repairs
While inspections and routine maintenance can keep roofing repair needs to a minimum, some problems are beyond anyone's control. Storms are notorious for damaging roofing materials. In many cases, the damage goes much deeper than the surface of a roof. The more serious the damage is, the more ongoing problems it's likely to cause. Having repairs carried out as quickly as possible helps to prevent further damage and unnecessary expenses.
New Roof Installation
Having a new roof installed can be an exciting experience whether it's for a new home or to replace an existing roof. It can also be confusing, though. With so many roofing materials on the market, choosing the right one isn't easy. We can help local homeowners choose the most visually appealing, energy-efficient, and affordable solutions to meet their needs.
Additional Roof Services
Those are only a few of the services we have to offer Weatherford homeowners. Our expert roofing team also handles gutter and downspout installation, inspections, maintenance, and repairs. We offer roof ventilation services, efficiency solutions, and many other options for homeowners, too. We provide a long list of commercial roofing services for local businesses as well. Don't hesitate to contact us for more information about how we can help.
Your Local Roofing Experts
We're proud to meet the needs of home and business owners in Weatherford and the surrounding areas. Our team covers the full range of roofing services while catering to many other requirements our clients may have. We bring the highest possible level of quality and service to every project we do. Call us or fill out the form on our website to book an appointment and find out why we're the area's leading roofing specialists.