5 Lies That Roofers Tell to Get Hired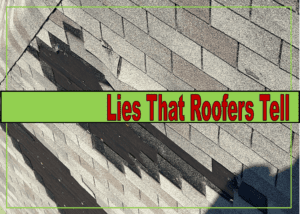 The roofing business in North Texas is unbelievably competitive. Sometimes if feels to us like there are more roofers than customers! While that isn't true, it is true that homeowners have many choices when it comes to finding the best roofing contractor to repair their property. And with so many choices come both good and bad choices. It's no secret that there are plenty of bad roofers out there that give the industry a black eye.
So how do you know who are the good ones and who are the bad ones? The good ones usually are easy to recognize. They come with good referrals. They have good Google ratings and good Better Business Bureau ratings. And they do business the right way- with honesty and integrity.
But the bad ones- that's a little different. And sometimes the bad ones can be really good at hiding how bad they are until it's too late! So here are a few lies that roofers tell that tend to be a recurring theme:
"Your roof has hail damage. I can see the damage from the ground."
Often, roofing companies will go door-to-door to promote their services. That in itself is not always a red flag. But when a roof salesman tells you he can see damage on your roof without even getting on it, that could be a huge red flag! Yes, some damage can be seen from the ground: dented gutters, dented turbines, or REALLY big hail hits can all be seen from the ground. And hail damage to metal roofs can often be seen from a distance. But most hail hits on shingles are typically no larger than a quarter, and often appear as a slight discoloration to the shingle. To the untrained eye, these can be difficult to distinguish, even from on top of the roof. From the ground, these hail hits can be nearly or completely invisible.
"We'll pay your deductible."
While this statement in itself may not be a lie, the intention definitely is. In Texas, as well as other states, it is illegal for a contractor to pay your deductible. In fact, in 2019, Texas passed HB2102 to close a loophole of roofers and other contractors paying, "eating" or absorbing deductibles that says: "Texas law requires a person insured under a property insurance policy to pay any deductible applicable to a claim made under the policy. It is a violation of Texas law for a seller of goods or services who reasonably expects to be paid wholly or partly from the proceeds of a property insurance claim to knowingly allow the insured person to fail to pay, or assist the insured person's failure to pay, the applicable insurance deductible." So, when a roofing company says they'll cover your deductible, they're being dishonest in the way they conduct business in general. Take a look at this article for more info on why you have to pay your deductible.
"Your roof can't be repaired and needs to be replaced."
Multiple times each year we do repairs for property owners who were told by other contractors that their roof could not be repaired and would need to be replaced. While it's possible and even sometimes probable that a roof needs to be replaced, many times that roof can be repaired as well. There are many factors that play into making the decision of repair or replace. Obviously, the cost is a huge consideration. Other things to consider also are: How old is the roof? How long will you remain in the home? What is the condition of the shingles, flashing, ventilation, decking? Are matching materials available or discontinued? How long will a repair last and how much will future repairs cost? If you are faced with deciding between a repair or replacement, you need as much information as possible to make an informed decision. At Americana Roofing we actually use a proprietary score card to help owners make a decision of whether they should repair or replace. And when we evaluate a roof, we'll do our best to present a good-better-best option for restoring your property. Sometimes this leads to a full replacement, and other times it means we only do a simple repair.
"We're a local roofer."
Most everyone likes to do business with local people and companies. It helps keep tax money in the area. It helps put money back into the local economy by money being re-spent at local restaurants and stores, sponsoring local sports teams, and supporting local churches and nonprofits. Beyond that, when you hire a local roofing contractor, you are hiring a contractor that is familiar with local codes and resources. They also are more likely to still be around in a few months or years if you ever have a problem. But many times, contractors may call themselves local, but they have a very different and misleading definition than what most people think of. This is where the "storm chasers" come into the picture. They'll tell you they are local, but what that really means is they have a post office box or a temporary office somewhere near you. Or they hired a local person to be a salesman for them but don't have a local office, or even local installers. These roofers tend to show up after a big storm and are gone within a couple months. So how do you know if they're truly local? Do a little homework. What area code is their office? Is it even a Texas area code? Google their address and see what you get. Does it come back as a mailbox store? Or maybe someone's house? Take a look at the address on Google Street View if you aren't sure.
"You need to pay in advance to get on the schedule."
This is another statement that in itself may not be a lie but should lead you to ask more questions. If a roofer, or any contractor for that matter, wants you to pay for the entire project upfront, this is a huge red flag! Even if they offer a big discount for prepayment, don't do it. A quick Google search will show you enough news stories about unscrupulous contractors that have disappeared with homeowners' funds that this should scare you to death! This scam occurs far too often and costs homeowners far too much.
But what about a deposit? Should you ever pay a deposit for roof work? Maybe. Deposits can be fairly standard in the construction industry, especially for a full roof replacement. Deposits can typically range between 10% and 30% and may be governed by state and local law. (In Texas, there are not many laws on the books. One particular law that is applicable states that if your homestead improvement exceeds $5,000 in cost, the contractor is required by law to deposit your payments in a construction account at a financial institution.) Paying a deposit will demonstrate to the contractor that you are serious about having work done and you intend to pay for it. Also, if you want a special-order product that can't be returned and is costly or takes some amount of time to get in- such as a prefabricated copper dormer, or an imported roof slate- you will likely need to pay a deposit.
But often, roofing salesmen or companies will ask for a deposit for several other reasons: 1) they know once they have your money it's a lot harder for you to cancel a contract, 2) the salesman gets paid quicker if he can bring in a deposit to the office, and 3) the company may need the deposit check to cash flow the job because they don't have the funds to get started without it. Does this mean they are stealing your money? No. Does it mean you should be comfortable with making a deposit payment and confident in your contractor selection? Yes! If you haven't done your homework and are not 100% sure that a contractor can do the job you want in the time you expect it to be done, then hold onto your money until you are sure, or go look for another contractor.
On the other hand, a reputable, well established, financially secure roofing contractor knows this industry has a bad reputation for scammers stealing funds from homeowners, and that in most cases their business does not need to depend on a deposit check to get things started. Not taking advanced payments can build trust between the contractor and the homeowner. Americana and other companies like us will typically not ask for any partial payment until we start the job, and we'll never ask for a full payment until the job is done and the customer is satisfied with the results.
Are there any honest roofers?
Absolutely, there are honest roofing contractors that can be found! You just have to do your due diligence to find them. Now you know some of the lies that roofers tell. Next, check Google ratings and the Better Business Bureau. Ask your friends that have gotten roof work done how their experience was. Check their address and phone number. Ask to see their insurance. And ask lots of questions! The more educated you make yourself, the better chance of you hiring a contractor that is trustworthy!