Do I have to pay my deductible?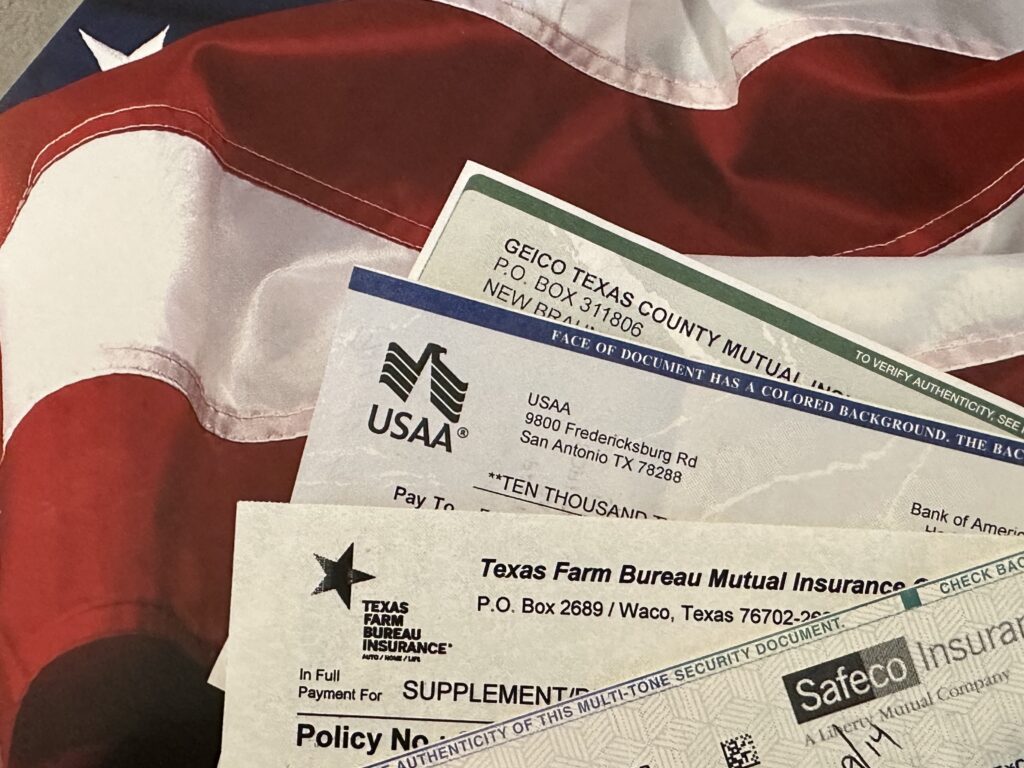 This is a common question we get asked after storms in North Texas. To answer this simply, YES, if you file an insurance claim for roof replacement and you want your insurance to pay for the repairs, then you have to pay your deductible.
The State of Texas passed HB2102 in 2019, that makes it illegal for a contractor to cover, waive, or absorb a property owner's deductible in any way. Moreover, HB2102 requires that contractors must include the following language on contracts involving insurance claims: "Texas law requires a person insured under a property insurance policy to pay any deductible applicable to a claim made under the policy. It is a violation of Texas law for a seller of goods or services who reasonably expects to be paid wholly or partly from the proceeds of a property insurance claim to knowingly allow the insured person to fail to pay, or assist the insured person's failure to pay, the applicable insurance deductible." For more information, please visit the Texas Department of Insurance website.
What is a deductible?
Let's dive into this a little further. The Texas Department of Insurance defines a deductible as "the amount you have to pay before the insurance company will pay. A higher deductible generally means a lower cost for the policy, but it also means you'll have to pay more out-of-pocket if you have a claim."
TDI goes on to explain:
"A deductible may be a specific dollar amount or a percentage. If a policy has a deductible that's a percentage, make sure you know how that translates to a dollar amount. Here are two examples for homes insured for $150,000:
Policy A has a $500 deductible. A hailstorm destroys the home's roof, and the cost for repairs is $6,500. Policy A will pay $6,000 of the cost to repair the roof.
Policy B has a 5 percent deductible – or $7,500. If the home needed $6,500 in roof repairs, Policy B would not pay anything because the amount (cost) of repairs is less than the deductible."
In Texas many home policies are written with 1% deductibles. This means if your home is insured for $300,000, your deductible is 1% of $300,000, i.e., $3000. And this applies to every claim separately. So if you have a fire, followed by a hailstorm, you can expect to pay $6000 in deductibles.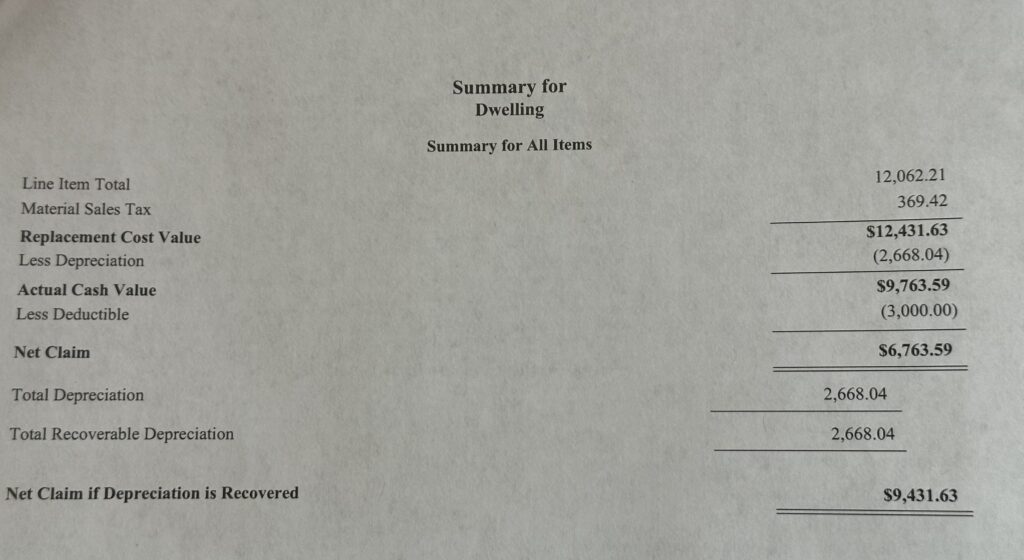 The insurance already took out my deductible. Why do I have to pay it?
The way insurance companies will typically process an approved claim is to subtract your deductible and the depreciation from the claim amount before issuing a check. For example, look at the photo above of a typical claim summary. The total cost to make the repairs is $12,431.63. Then depreciation of $2668.04 is subtracted, then the deductible of $3000 is subtracted. So, this property owner received a check for the Net Claim amount of $6763.59. This policy allows for recoverable depreciation, so once the work is complete, the insurance carrier will release the recoverable depreciation of $2668.04. This gives us a new total of $9431.63 in proceeds paid by the insurance company to repair the property. But that is $3000 lower than the value of the repair of $12,431.63. This difference is the amount of the deductible. And it is the property owner's responsibility to pay this to the contractor.
So how are some homeowners able to avoid paying their deductible at all?
One way is the contractor provides an estimate or invoice to the insurance company that is higher than the actual cost to repair the home or roof. The contractor then uses the extra money paid by the insurance company to cover the deductible. This is fraudulent. Some contractors might offer rebates or credits in the amount of your deductible. This is also illegal. And if the homeowner is complicit in this, then the homeowner has also performed an illegal act! We all know that saving money is important but having a roofing company "eat" or "pay" your deductible is not worth committing fraud.
Why would a contractor pay my deductible?
The simple answer is they want your business. Beyond that, they are willing to break the law to get it. So, in the example claim above, if a contractor performed this $12000 job for $9000, they did it for $3000 less than what it is worth. That's 25% less! If your next question now is "How can they afford to do that?", then you are seeing the rest of the problem! The fact is, if you want a quality contractor to do quality work with quality materials, back the job with good warranties and good insurance that protects the homeowner, and still be around in five or ten years if a problem arises, then you definitely want to think twice before hiring someone that is willing to do the job so cheap!
What next?
Now that you have a better understanding of your deductible, if you are not sure if you need to file a claim, or you have a claim already filed and need a contractor, check out some additional information on our website about Storm Repair. And take a look at our blog about Lies That Roofers Tell.